To cook asparagus in a pan, heat some oil, add the asparagus, season it with salt and pepper, and cook for 5-7 minutes until tender-crisp. Asparagus is a versatile vegetable that can be enjoyed in various ways, but pan-frying it is a simple yet delicious method that allows the natural flavor of asparagus to shine.
By using a pan and a few ingredients, you can quickly prepare a delightful side dish or incorporate the cooked asparagus into other recipes. In this article, we will guide you on how to cook asparagus in a pan to perfection.
Whether you are a beginner or a skilled cook, this easy-to-follow method will help you achieve tender-crisp asparagus that is bursting with flavor. So let's get started and learn how to pan-cook asparagus in the most effortless way!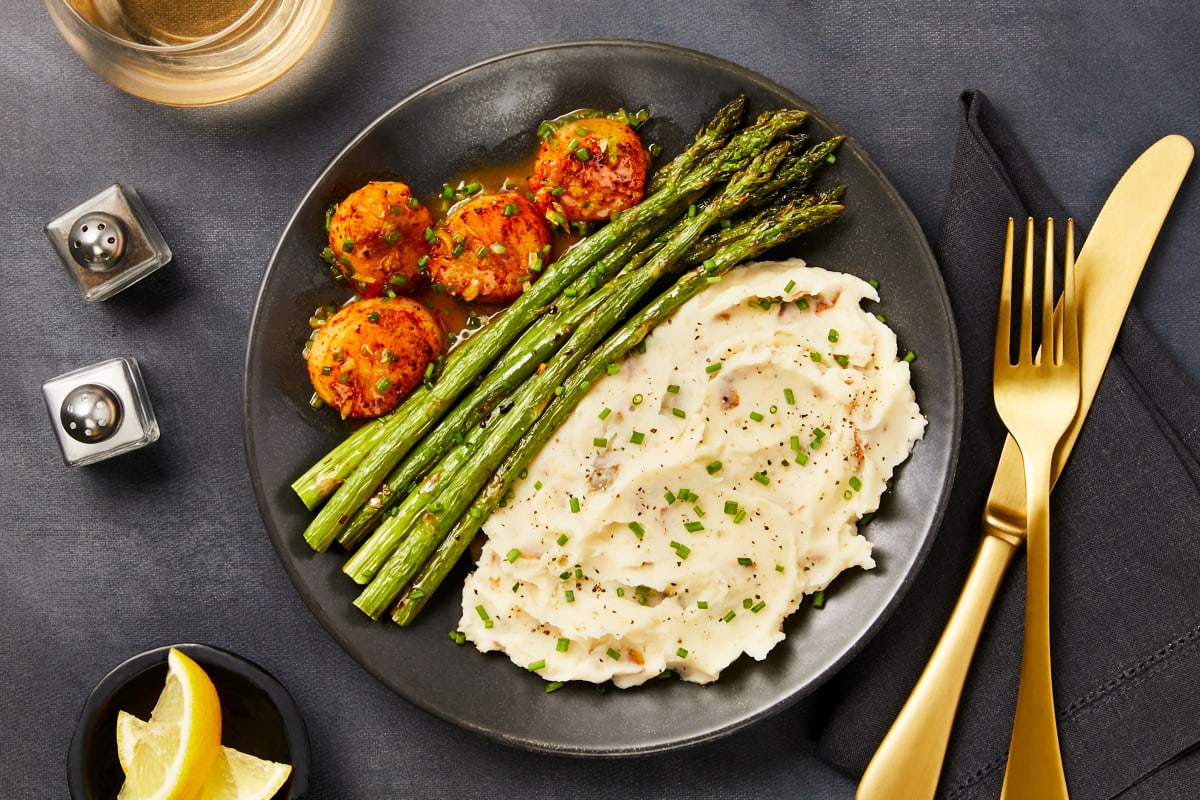 Credit: www.hellofresh.com
Understanding The Basics Of Asparagus Cooking
Cooking asparagus in a pan is a simple yet delicious way to enjoy this versatile vegetable. Understanding the basics of asparagus cooking is essential to getting the best results. In this section, we'll explore the health benefits and versatility of asparagus, how to choose the right asparagus spears, the importance of cleaning and prepping, and the debate over whether to trim or snap the spears before cooking.
Health Benefits And Versatility Of Asparagus:
Asparagus is a nutrient-packed vegetable that offers numerous health benefits. It is low in calories, high in fiber, and rich in vitamins a, c, and k.
This green vegetable is also a great source of folate, which is essential for pregnant women, and it contains antioxidants that may help reduce the risk of certain diseases.
Asparagus is incredibly versatile and can be cooked in various ways, such as grilling, roasting, steaming, and of course, pan-frying. Its unique flavor pairs well with a wide range of ingredients, making it a great addition to salads, pasta dishes, stir-fries, and more.
Choosing The Right Asparagus Spears:
When selecting asparagus at the grocery store or farmers market, look for spears that are firm, straight, and vibrant in color.
Thicker spears tend to have a more robust flavor and a meatier texture, while thinner spears are often more tender and delicate.
Avoid asparagus with withered or mushy ends, as this indicates that they are past their prime.
Cleaning And Prepping Asparagus:
Before cooking asparagus, it's important to give it a thorough cleaning. Rinse the spears under cold water to remove any dirt or grit.
To trim off the tough ends, hold a spear with one hand at the bottom and bend it until it snaps naturally. Alternatively, you can use a knife to trim about an inch from the bottom.
If the asparagus spears are particularly thick, you may want to peel the bottom portion to ensure even cooking.
Trim Or Snap: Which Method Is Best?
There has long been a debate over whether it's better to trim or snap the asparagus spears. The truth is, both methods work well, so it ultimately comes down to personal preference.
Trimming with a knife allows for a precise cut and can be preferable if you want uniform spears for presentation purposes.
On the other hand, snapping the spears can be a fun and satisfying method. It also ensures that you remove the woody ends, as the spears will naturally break at the point where they become tender.
Whichever method you choose, the most important thing is to remove the tough ends before cooking to ensure a pleasant eating experience.
Now that you have a good understanding of the basics of asparagus cooking, let's move on to the next section where we'll explore some delicious pan-fried asparagus recipes.
Enhancing Flavor With Seasonings And Marinades
Asparagus is a versatile and delicious vegetable that can be cooked in a variety of ways. One popular method is to cook it in a pan, which allows for quick and easy preparation. To take your asparagus to the next level, you can enhance its flavor by using a combination of herbs, spices, and marinades.
This will add depth and complexity to the dish, making it even more enjoyable to eat. In this section, we will explore the art of selecting the perfect herbs and spices for asparagus, as well as creating a simple yet flavorful marinade.
Additionally, we will share some tips for marinating asparagus effectively, ensuring that each bite is bursting with deliciousness. So let's dive in and discover how to elevate the flavors of your pan-cooked asparagus!
Selecting The Perfect Herbs And Spices For Asparagus:
Rosemary: This woody, aromatic herb adds a delightful earthy flavor to asparagus. Simply sprinkle some fresh or dried rosemary over your asparagus before cooking.
Thyme: Known for its fragrant and slightly minty taste, thyme pairs beautifully with asparagus. Use either fresh or dried thyme leaves to season your dish.
Garlic: A classic flavor booster, garlic adds a hint of pungency to asparagus. Mince some fresh garlic or use garlic powder to infuse your asparagus with its distinctive taste.
Lemon zest: Brighten up your asparagus with a touch of lemon zest. The citrusy notes complement the vegetable's natural flavors, creating a refreshing and zesty experience.
Red pepper flakes: For those who enjoy a bit of heat, adding red pepper flakes to asparagus can give it a spicy kick. Sprinkle them sparingly to add a touch of excitement to your dish.
Creating A Simple Yet Flavorful Marinade:
Olive oil and balsamic vinegar: Combine equal parts olive oil and balsamic vinegar to create a tangy and luscious marinade for your asparagus. The oil helps to coat the vegetable, while the vinegar adds a pleasant acidity.
Soy sauce and honey: Blend soy sauce and honey together to form a sweet and savory marinade. The soy sauce provides umami flavor, while the honey balances it with a touch of sweetness.
Dijon mustard and maple syrup: Mix dijon mustard with maple syrup to create a rich and slightly sweet marinade. The mustard adds a tangy punch, while the maple syrup brings depth and complexity.
Tips For Marinating Asparagus Effectively:
Time it right: Marinate your asparagus for at least 30 minutes to allow the flavors to penetrate the vegetable. For more intense flavors, you can marinate it for up to 2 hours.
Coat evenly: Make sure to evenly coat the asparagus with the marinade. This can be done by placing the asparagus and marinade in a resealable bag and gently massaging it to distribute the flavors.
Don't overdo it: While marinating can enhance the flavor of asparagus, be careful not to let it marinate for too long. The vegetable can become too soft and lose its desirable texture.
Experiment with different combinations: Feel free to experiment with different herbs, spices, and marinades to find your favorite flavor combinations. Don't be afraid to get creative and try new things!
By selecting the perfect herbs and spices for asparagus and creating a simple yet flavorful marinade, you can elevate the taste of your pan-cooked asparagus to new heights. With these tips and techniques, you'll be able to create a dish that is not only delicious but also bursting with a variety of tantalizing flavors.
So next time you cook asparagus in a pan, don't be afraid to get adventurous and add your own personal touch to enhance its taste. Enjoy the journey of exploring the endless possibilities of seasoning and marinating asparagus!
Mastering Different Pan Cooking Techniques
Searing asparagus for a crispy texture:
Searing asparagus in a pan is a quick and flavorful way to cook this delicious vegetable.
The high heat creates a crispy exterior while maintaining the natural tenderness inside.
Here's how to do it:
Preheat your pan over medium-high heat for a few minutes until it's nice and hot.
Drizzle some olive oil or melted butter over the asparagus spears and season with salt and pepper.
Carefully place the asparagus in the hot pan, making sure they're in a single layer.
Let them cook undisturbed for about 2-3 minutes until they develop a golden brown color and a slight char.
Flip the asparagus using tongs and cook for another 2-3 minutes on the other side.
Remove the asparagus from the pan and serve immediately for that satisfying crunch.
Sauteing asparagus to retain its natural tenderness:
Sauteing asparagus is a gentle cooking method that allows it to retain its natural tenderness and vibrant green color.
Here are the steps to saute asparagus to perfection:
Heat some olive oil or butter in a pan over medium heat.
Add the trimmed asparagus spears and season with salt and pepper.
Toss the asparagus gently to coat them in the oil or butter.
Cook for about 5-7 minutes, stirring occasionally, until the asparagus is crisp-tender.
You want it to still have a slight bite but remain tender and bright green.
Avoid overcooking asparagus as it can turn mushy and lose its flavor.
Once cooked, transfer the sauteed asparagus to a serving dish and enjoy its delicate texture.
Roasting asparagus for a caramelized flavor:
Roasting asparagus in the oven gives it a delicious caramelized flavor and slightly crispy texture.
Follow these simple steps to roast asparagus to perfection:
Preheat the oven to 425°f (220°c) and line a baking sheet with parchment paper.
Place the trimmed asparagus spears on the baking sheet in a single layer.
Drizzle with olive oil and toss to coat the asparagus evenly.
Season with salt and pepper, and if desired, add some minced garlic or grated parmesan cheese for extra flavor.
Roast the asparagus for about 12-15 minutes, or until it becomes tender and starts to brown slightly.
Make sure to flip the asparagus halfway through to ensure even cooking.
Once roasted, serve the asparagus immediately to savor its irresistible caramelized taste.
Now that you've learned these different pan cooking techniques, you can easily prepare asparagus with various textures and flavors. Whether you prefer the crispiness of seared asparagus, the tenderness of sauteed asparagus, or the caramelized goodness of roasted asparagus, these methods will elevate your culinary skills.
Enjoy experimenting with different cooking techniques and savor the deliciousness of asparagus in your next meal.
Perfecting The Timing And Temperature
Cooking asparagus in a pan can be a quick and delicious way to enjoy this versatile vegetable. However, getting the timing and temperature just right is essential for achieving the perfect texture and flavor. Whether you prefer your asparagus crisp-tender or with a slight bite, here are some tips to help you determine the ideal cooking time and adjust the heat for pan-frying asparagus.
Determining The Ideal Cooking Time For Asparagus:
Asparagus stalks vary in thickness, so cooking times may vary. Here's a general guideline:
Thin asparagus (pencil-thin): 2-3 minutes
Medium-sized asparagus (pencil to thumb thickness): 4-6 minutes
Thick asparagus (thumb thickness and above): 6-8 minutes
The cooking time also depends on your desired level of doneness. Keep in mind that asparagus will continue to cook slightly after removing it from the pan, so it's better to undercook it slightly if you like it tender-crisp.
Adjusting The Heat: Low Vs. Medium Vs. High:
Low heat: This is suitable for delicate asparagus spears or if you prefer a slower cooking process. It helps to maintain the vibrant green color and prevent overcooking. Cook for slightly longer than the recommended times stated above.
Medium heat: This is the most commonly used heat setting for pan-frying asparagus. It allows for a good balance between cooking the asparagus evenly and maintaining a nice texture. Stick to the recommended cooking times mentioned earlier.
High heat: If you're looking for a quick and flavorful option, high heat is the way to go. This method adds a slight char to the asparagus, giving it a smoky flavor. The cooking time will be shorter, so keep a close eye on the asparagus to prevent burning.
Remember to adjust the cooking time and heat level based on your personal preferences and the results you desire. With a little practice, you'll become a pro at cooking asparagus in a pan, impressing your family and friends with perfectly cooked spears every time.
Achieving Optimum Doneness Levels
Asparagus is a versatile and delicious vegetable that can be cooked in various ways, but cooking it to the perfect doneness level is crucial to fully enjoy its flavors and textures. Undercooking or overcooking asparagus can result in unpleasant experiences, so let's dive into the key points of achieving optimum doneness levels.
Recognizing The Signs Of Undercooked Asparagus
Undercooked asparagus can be tough and fibrous, making it difficult to chew and enjoy.
Look for bright green spears with a tender texture when cooked properly.
Undercooked asparagus may still have a raw, grassy taste.
How To Avoid Overcooking And Mushiness
Overcooking asparagus can lead to a mushy, limp texture and a loss of its vibrant green color.
Keep a close eye on the cooking time to prevent overcooking.
Avoid boiling or steaming for too long, as this can result in an overcooked texture.
Opt for other cooking methods like sautéing, roasting, or grilling, which can help retain the natural crunch of asparagus.
Testing Asparagus Texture: Al Dente Or Fork-Tender?
The desired texture for cooked asparagus can vary depending on personal preference and the dish you are preparing.
Al dente asparagus is slightly firm when bitten into, offering a pleasant crunch.
Fork-tender asparagus is soft and easy to pierce with a fork.
To determine doneness, use a fork or tongs to gently poke the thickest part of the asparagus spear. It should easily pierce through, without any resistance.
By recognizing the signs of undercooked asparagus, avoiding overcooking and mushiness, and mastering the art of testing for al dente or fork-tender texture, you can elevate your asparagus cooking game to new heights. So grab your pan and get ready to savor the perfect doneness levels of this delectable vegetable.
Presenting Your Asparagus Dish With Style
Asparagus is a versatile and delicious vegetable that can be prepared in a multitude of ways. Once you've perfected the art of cooking asparagus in a pan, the next step is to present it with style. A beautifully plated asparagus dish not only enhances the visual appeal but also impresses your guests.
Here are some creative ideas for plating techniques, garnishing, and serving suggestions that will elevate your asparagus dish to another level.
Plating Techniques And Garnishing Ideas
Arrange the cooked asparagus spears in a neat row on a rectangular or oval-shaped plate, creating a visually appealing presentation.
For an elegant touch, drizzle a balsamic reduction or a tangy hollandaise sauce over the asparagus spears, adding a burst of flavor and eye-catching sheen.
Sprinkle toasted breadcrumbs or crushed nuts over the asparagus to create a delightful crunch and enhance the texture.
Place a poached egg gently on top of the asparagus spears, allowing the creamy yolk to ooze and mingle with the flavors of the dish.
Add a pop of color with a sprinkle of microgreens or finely chopped fresh herbs such as parsley, chives, or mint, lending a fresh and vibrant appearance.
Incorporate edible flowers like pansies or nasturtiums to bring an element of sophistication and beauty to your dish.
Pairing Asparagus With Complementary Flavors
Pair your asparagus dish with a creamy, rich sauce like hollandaise or aioli, as it adds a lusciousness that complements the natural earthy flavor of the asparagus.
Enhance the taste of asparagus by wrapping it with prosciutto or pancetta, which adds a salty and smoky punch to the dish.
The bright acidity of lemon zest or a squeeze of lemon juice elevates the flavors of asparagus, providing a refreshing tanginess.
Incorporate roasted garlic or caramelized shallots to infuse the dish with a savory depth that perfectly balances the subtly sweet flavor of asparagus.
Add a touch of nuttiness by topping the asparagus with shaved parmesan or crumbled feta cheese, providing a delightful contrast of flavors.
When serving asparagus alongside meat or seafood, consider pairing it with sauces or marinades that complement those main flavors, such as a lemon butter sauce for fish or a mushroom sauce for steak.
Impress Your Guests With Creative Serving Suggestions
Serve the asparagus spears in shot glasses, filled with a creamy dip like hummus or tzatziki, allowing guests to indulge in a unique and interactive appetizer experience.
Use thin strips of grilled zucchini or roasted red pepper to wrap the asparagus, creating elegant asparagus bundles that are as pleasing to the eye as they are to the palate.
Incorporate the asparagus into a colorful salad by adding mixed greens, cherry tomatoes, and a zesty vinaigrette, creating a refreshing and nutritious addition to your menu.
Create individual asparagus and cheese tartlets by topping a pastry base with cooked asparagus and melted cheese, resulting in a flavorful and satisfying appetizer option.
Transform your asparagus into a vibrant side dish by tossing it with olive oil, minced garlic, and a sprinkle of chili flakes, then quickly roasting it until tender and slightly charred.
These plating techniques, garnishing ideas, and creative serving suggestions will take your asparagus dish from ordinary to extraordinary. Experiment with different combinations and create a visual and culinary masterpiece that will leave your guests impressed and coming back for seconds.
With a little creativity and attention to detail, your asparagus dish will stand out as a memorable centerpiece of any meal.
Frequently Asked Questions About Cooking Asparagus In A Pan
Asparagus is a versatile and delicious vegetable that can be cooked in various ways. One popular method is cooking it in a pan, which results in a tender and flavorful dish. If you're new to cooking asparagus in a pan, you may have some questions.
In this section, we'll address some frequently asked questions to help you become a pro at making pan-cooked asparagus. So, let's get started!
Can I Use Frozen Asparagus Instead Of Fresh?
Frozen asparagus can be a convenient option when fresh asparagus is not available or out of season. However, there are a few things to keep in mind when using frozen asparagus in a pan:
Thaw the frozen asparagus before cooking it in a pan. This can be done by placing it in the refrigerator for a few hours or using the defrost setting on your microwave.
Frozen asparagus tends to be slightly softer than fresh asparagus, so adjust your cooking time accordingly to prevent overcooking.
It's important to pat the thawed asparagus dry before cooking it in a pan to remove any excess moisture, as this can affect the texture and flavor of the dish.
Should I Peel The Asparagus Before Cooking?
Unlike some vegetables, asparagus does not require peeling before cooking. The thin outer skin of asparagus is edible and adds to the overall taste and texture of the dish. However, you may want to trim the tough ends of the asparagus before cooking.
To do this, hold the asparagus spear at both ends and gently bend it until it snaps. The bottom end that snaps off is the part you should discard.
How Long Does Cooked Asparagus Last?
Cooked asparagus can be stored in the refrigerator for up to 3-4 days. To ensure its freshness and quality, store the cooked asparagus in an airtight container or wrap it tightly in plastic wrap. When reheating, you can do so in a pan with a little butter or oil for a quick and flavorful side dish.
Now that you have answers to these frequently asked questions, you're ready to try your hand at cooking asparagus in a pan. Whether you're using fresh or frozen asparagus, remember to adjust your cooking time accordingly and enjoy the delicious flavors of this versatile vegetable.
Troubleshooting Common Asparagus Cooking Issues
Asparagus is a versatile vegetable that pairs well with a variety of dishes. Whether you're a seasoned cook or a beginner in the kitchen, cooking asparagus in a pan can sometimes present its own set of challenges. In this section, we'll discuss some common issues you may encounter when cooking asparagus and provide troubleshooting tips to help you overcome them.
Dealing With Unevenly Cooked Spears
Uneven cooking can result in some spears being undercooked while others are overcooked. To ensure that your asparagus cooks evenly, follow these tips:
Choose asparagus spears of similar thickness to promote even cooking.
Trim the tough ends of the asparagus and consider cutting the spears into uniform lengths.
Arrange the asparagus spears in a single layer in the pan to ensure they all come into contact with the heat evenly.
Rotate and flip the spears occasionally during cooking to ensure even browning and doneness.
Preventing The Dreaded Stringy Texture
Overcooked asparagus can become stringy and lose its desirable texture. To prevent this, keep the following points in mind:
Cook asparagus for the recommended time, typically around 5-7 minutes, to retain its crispness and tenderness.
Keep an eye on the asparagus while cooking and test for doneness using a fork. The spears should be tender, but still have a slight bite.
Avoid cooking asparagus for too long or at too high a heat, as this can cause it to become mushy and stringy.
If you notice any spears starting to curl or turn deep green, remove them from the pan immediately to avoid overcooking.
Reviving Overcooked Asparagus
Sometimes, despite our best efforts, asparagus can be overcooked. But don't worry, there are ways to salvage it:
If the asparagus is slightly overcooked and has become soft, try tossing it with a little olive oil, lemon juice, and salt. This can help revive the flavor and texture.
Alternatively, chop the overcooked asparagus and incorporate it into dishes like soups, omelets, or stir-fries, where its texture won't be as noticeable.
If the asparagus is extremely overcooked and has turned mushy, it may be best to discard it and start fresh with a new batch.
By understanding these common asparagus cooking issues and employing these troubleshooting tips, you can ensure that your asparagus is cooked to perfection every time. With a little practice and experimentation, you'll become a pro at cooking asparagus in a pan, delighting your family and friends with this delicious and nutritious vegetable.
Frequently Asked Questions On How To Cook Asparagus In A Pan
Can You Cook Asparagus In A Pan?
Yes, you can easily cook asparagus in a pan. Pan-roasting or sautéing is a popular method that brings out the asparagus' natural flavors and adds a delicious char and crunch to it.
What Is The Best Way To Prepare Asparagus In A Pan?
To prepare asparagus in a pan, start by trimming the woody ends. Heat some olive oil or butter in a pan over medium-high heat. Add the asparagus, season with salt and pepper, and cook until tender-crisp, stirring occasionally. This method retains the asparagus' vibrant green color and enhances its taste.
How Long Should You Cook Asparagus In A Pan?
Cook asparagus in a pan for about 5 to 8 minutes, depending on the thickness of the spears. They should be tender-crisp and still have a slight crunch. Be mindful not to overcook them, as they might become soggy.
Can You Use Frozen Asparagus To Cook In A Pan?
While fresh asparagus is ideal, you can use frozen asparagus to cook in a pan as well. Thaw the frozen asparagus and pat it dry before adding it to the pan. Adjust the cooking time slightly, and enjoy a tasty dish.
What Seasonings Pair Well With Pan-Cooked Asparagus?
Pan-cooked asparagus pairs well with various seasonings. Some popular options include lemon zest, garlic, parmesan cheese, balsamic vinegar, or a sprinkle of red pepper flakes. Experiment with different flavors to find your favorite combination.
Conclusion
To sum it up, cooking asparagus in a pan is a simple and delicious way to enjoy this nutritious vegetable. It offers a variety of cooking options, from sautéing to stir-frying, that allow you to fully enhance its flavor and preserve its health benefits.
By following a few easy steps, you can achieve perfectly cooked asparagus that is tender yet slightly crispy. Remember to choose fresh and firm asparagus spears and trim the tough ends before cooking. Experiment with different flavors by adding seasonings like garlic, lemon zest, or parmesan cheese.
Whether you're a beginner or a seasoned cook, this versatile cooking method will surely impress your taste buds. So next time you have a bunch of asparagus on hand, grab your trusty pan and get cooking – your palate will thank you!